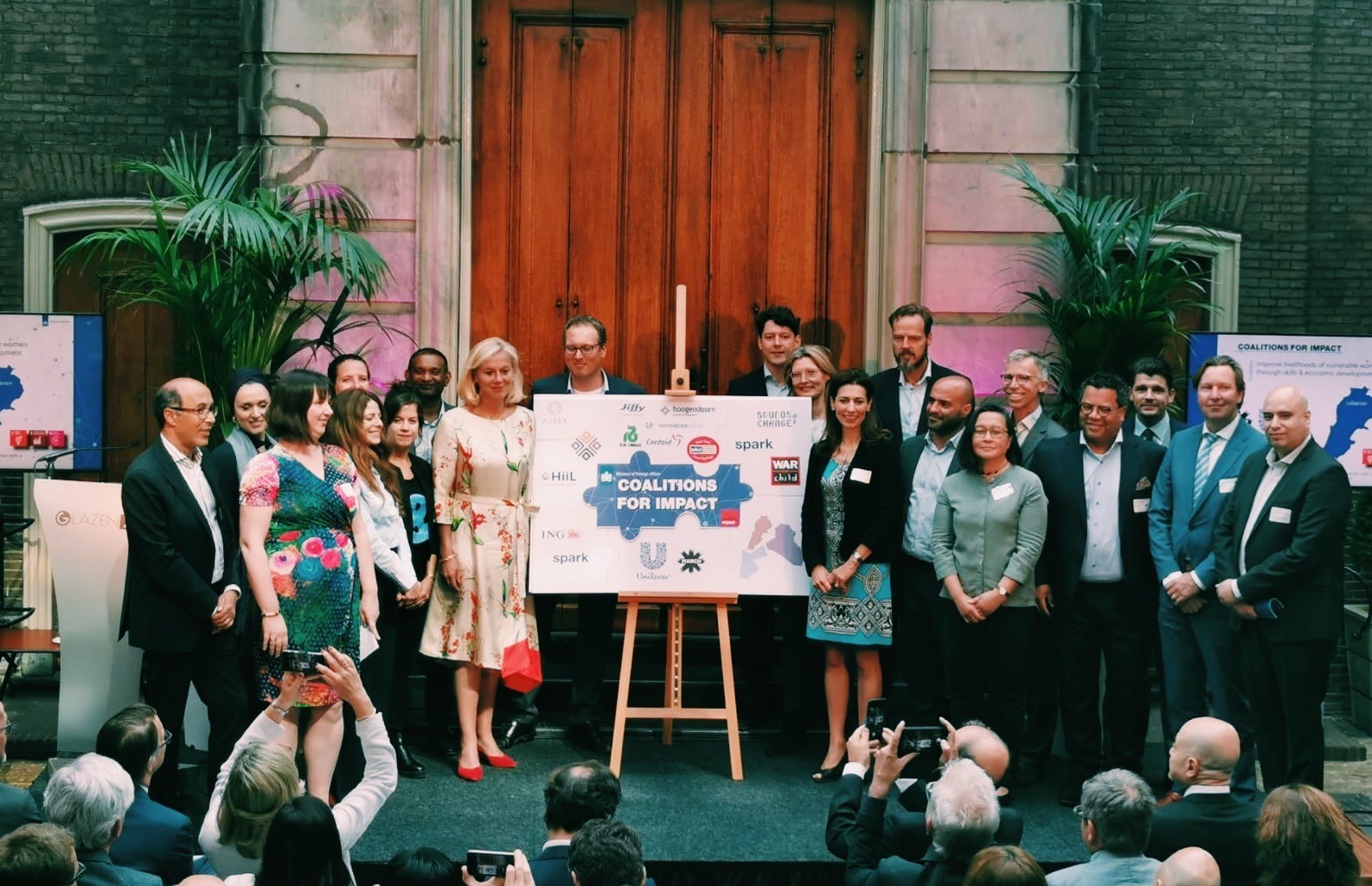 Coalition for Impact event 4 June 2019
Society Impact organiseerde op 4 juni de vervolg bijeenkomst van Coaltions for Impact. Na de bijeenkomst eerder dit jaar (zie hier) zijn de eerste coalities gevormd die zich in gezamenlijkheid in zullen zetten voor: het verbeteren van de Agri-supply chain in Irak, een nieuwe generatie van rechtvaardigheidsleiders in Irak, het verbeteren van het levensonderhoud van kwetsbare vrouwen door middel van vaardigheden en economische ontwikkeling in Libanon, empowerment van jongeren, psychosociale ondersteuning en opleiding van beroeps- en levensvaardigheden in Libanon, en als laatste; toegang tot financiering voor het MKB in Jordanië. Op 4 juni presenteerden deze coalities zich aan de aanwezigen waaronder Minister Sigrid Kaag.
Een uitgebreidere toelichting vindt u hieronder. Wegens het grote aantal internationale betrokkenen is de tekst in het Engels.
 "Iraq, Lebanon and Jordan have been profoundly affected by the conflict in Syria. In order to help mitigate the spill-over effects, all three countries have been designated by the Dutch Government as focus countries for intensified international cooperation. Motivated by a shared sense of responsibility, it is time to join forces.
In pursuance of successful implementation of the envisioned policy, The Ministry of Foreign Affairs called upon relevant parties to join together. On January 29th a variety of stakeholders representing public and private organisations, NGO's, philanthropist funds and social impact financers gathered to explore collaborative efforts geared towards enhancing societal resilience in the focus countries Iraq, Jordan and Lebanon. During interactive country sessions, a multitude of intentions for joint efforts and potential unexpected coalitions were identified.
In accordance with Minister Kaag's wish to create momentum, a gathering is planned to take place on June 4th. during which emerged coalitions will further shape their collective efforts and new partners are invited to create innovative coalitions.
New and existing coalitions synergising public and private investments in order to improve stability, create opportunities and enhance local empowerment in the region remain at the core of Coalitions for Impact. Accordingly, the Ministry wishes to facilitate innovative coalitions of partners across-the-board operating in the focus countries".
Voor meer informatie over deze bijeenkomst en vervolgbijeenkomsten rondom Coalitions for Impact mailt u info@societyimpact.nl.